Why I love the tried horse challenge
Sep 12, 2017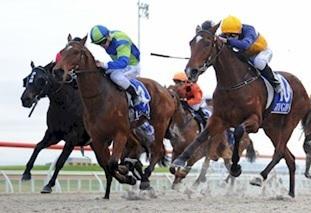 Since the start of my career as a trainer seven years ago I have worked with tried horses, many of which had injury niggles or behavioural problems that had kept them from showing their best ability on race day.
Most young trainers have worked with second-hand horses like these, and while my stable has evolved with success in the last four or five years to the point where most of my team comes from the auction ring, I still love the challenge of working with horses that have their issues.
Rambert was a horse that really got me going early days - he was a $500 second-hand buy that looked hopeless early, but with a little TLC and some thought I got the big boy to win six times, twice in town, with over $129,000 in the bank from 20 runs in my care.
On Sunday I was thrilled to get a win out of Strong Hand, a horse that joined my team from champion trainer Darren Weir. Because Weiry has such a big team and competition for a place in his stable is strong, horses like Strong Hand can sometimes fail to make the cut, that creates opportunities for other trainers who like a bit of a challenge.
Strong Hand has his share of niggles, he's a bit like a suburban footballer that showed good talent as a young player but soon felt the aches and pains of battle week in week out. The key to get the best out of horses like Strong Hand is to make them happy, and I'll do anything to make my horses happy because that is when they race to their very best.
A big part of this process is my beach side stable at Corinella, on the shores of Westernport Bay. It gives our horses a chance to mix up the scenery between our city stable at Cranbourne and the beach and paddocks of the farm.
Horses can be in a sunny, green paddock at Corinella within a couple of hours of racing and have their hooves in the sand and salt water the next morning. It's like a mini holiday for them between races and many of them absolutely thrive on it.
For my owners it means their horses can race for longer each preparation, more races means more chances to win or earn prizemoney and that makes the entire racing game so much more affordable.
But most of all when you're training a tried horse the key is to spend time with the animal, learn about it and what makes it happy, then create a work and lifestyle program that works for the horse - a happy horse is a horse that tries its best.
King Way is in the same boat - pardon the pun - he loves little beach breaks and a dip in the salt water. He has had more problems than I'd care to mention - hamstring, stifle, joint, and hoof injuries - but we're close to breaking through for a win with him, and all the hard work will be a fantastic reward for me and my team.
Next Monday I will take another challenging horse to the trials at Cranbourne. His name is Kings Bay and as a younger horse he was one of the most promising three-year-olds in South Africa. A trip to Singapore and a couple of tendon injuries later and he arrived at my stable in Cranbourne - so far so good, but it's been a long road with a horse that hasn't raced for two years.
Buying yearlings is exciting and there's nothing like unearthing a gold nugget from the sales like Ocean Embers, but I still love the challenge of taking on a talented but troubled racehorse and getting them back to winning form.
If you have a horse that could benefit from our training methods, we'd love to hear from you - contact us here.