A King's challenge
Aug 25, 2017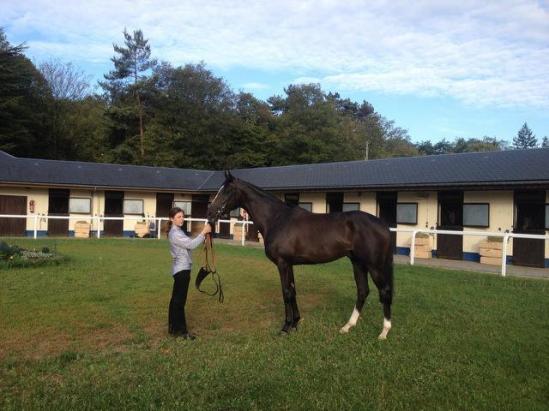 We all know that European stayers are the flavour of the month in Australia, and as a young trainer I didn't expect to get anywhere near one this early in my career.
Then, as luck would have it, along came a horse named King Way.
A broken contract meant that the very talented young French stayer was without a home. A Hail Mary phone call one Friday night and a weekend of ringing owners resulted in the horse I'd never heard of landing in my stables, and me landing at Heathrow Airport four days later to inspect him.
King Way is one of the nicest physical specimens that I have worked with, he oozes class and his form was outstanding. As I stood and inspected him at the famous Newmarket gallops I thought he was surely the horse to take my career to great heights.
Well, things haven't quite worked out that way so far, but I'm still so pleased to have him in my stable.
When a horse like King Way doesn't live up to expectations on the race track, punters and commentators are quick to assume that they are "no good" "over rated" or even worse that the trainer "has buggered up". But there is another world in and around every stable in this country that the outside world cannot fathom.
I still maintain that King Way is an immense talent, Group class at his best. Don't judge him on his form and don't call me crazy, instead, consider the long list of hiccups that we've had since the French stayer landed in Australia.
At his first Australian run at Sandown King Way slipped on a loose patch of turf and strained his hamstring. My owners were gutted, the horse was flying and we expected him to win. My team worked round the clock to fix the muscle but he did it again at his second start at Ballarat. A month between runs and it went again after a promising second place at Moonee Valley.
We sent the horse to the paddock and he prepped really well for a first-up run at Geelong in October, unfortunately he was injured again, this time a fetlock problem and it was straight back to the paddock.
To say we were frustrated is an understatement, but what made things harder was the commentary from people outside the stable about the horse being a dud and my team not being up to the task.
I can tell you that both assumptions couldn't be further from the truth.
After a promising prep in which King Way was placed four times before yet another injury at Moonee Valley, I wondered if I'd walked under a ladder while smashing a mirror with a black cat.
I ordered an extensive vet check and we found that King Way had extremely thin hoof walls. We decided to employ the best foot specialist in the country and we stripped back and then rebuilt King Way's feet over a laborious 9 month period.
My owners were incredible. They backed me in, they backed the horse and they backed my staff. Slowly but surely his feet improved and we resumed at Sale in June, albeit in a benchmark 78, far from the stakes races we bought him to contest.
King Way runs on Sunday at Cranbourne over 2000m and the race is another step on a long road that the horse and my staff have taken over the last two years. He may not win, but that's OK, we are playing the long game and making sure the horse has every possible chance to return to the level we think can reach.
This horse has tested my skills and patience as a trainer and I am a better trainer for having him. The rewards will come but I feel like he's already had a big positive impact on me as a trainer.
My point is that what punters and racing commentators see on race day is not even half of the story, there is so much that goes on every day in stables and tracks around Australia that shape the success and sometimes failure of thoroughbreds.
Some horses live up to reputations and others don't, others come from nowhere and turn into champions. But every horse has a story and every stable rides the rollercoaster of emotions with them every single day.
When King Way wins a race my team will party like it's a Group 1, and you know what? They have earned it.